Bacteria, mold, mildew, and microorganisms are everywhere, even airborne, covering surfaces you come into contact with every day. Studies have shown that floors and soles of shoes are sources of contamination.
A study done by the University of Arizona found that soles of shoes average 421,000 units of bacteria and that pathogens can transfer from the floor to shoes and back to floors.
An American Journal of Infection Control study concluded that contact with objects on floors in hospitals frequently results in the transfer of pathogens to hands. They found there is a need to reduce the bacterial burden on floors.
Whether you work in a hospital, school, or retail facility, finding ways to fight bacteria growth can improve the patient, student, and guest experience in any facility. Clarion® 25 Microban® Antimicrobial Floor Finish offers 24/7 product protection to proactively and continuously fight microbes at no additional cost, with no additional labor or procedures.
Microban International was founded in 1984 and is the global leader in surface modification technology which allows an EPA registered antimicrobial to be embedded in a surface. Microban technology is built-in to over 1,000 products in 30 countries on four continents.
How Does Microban Antimicrobial Product Protection Work?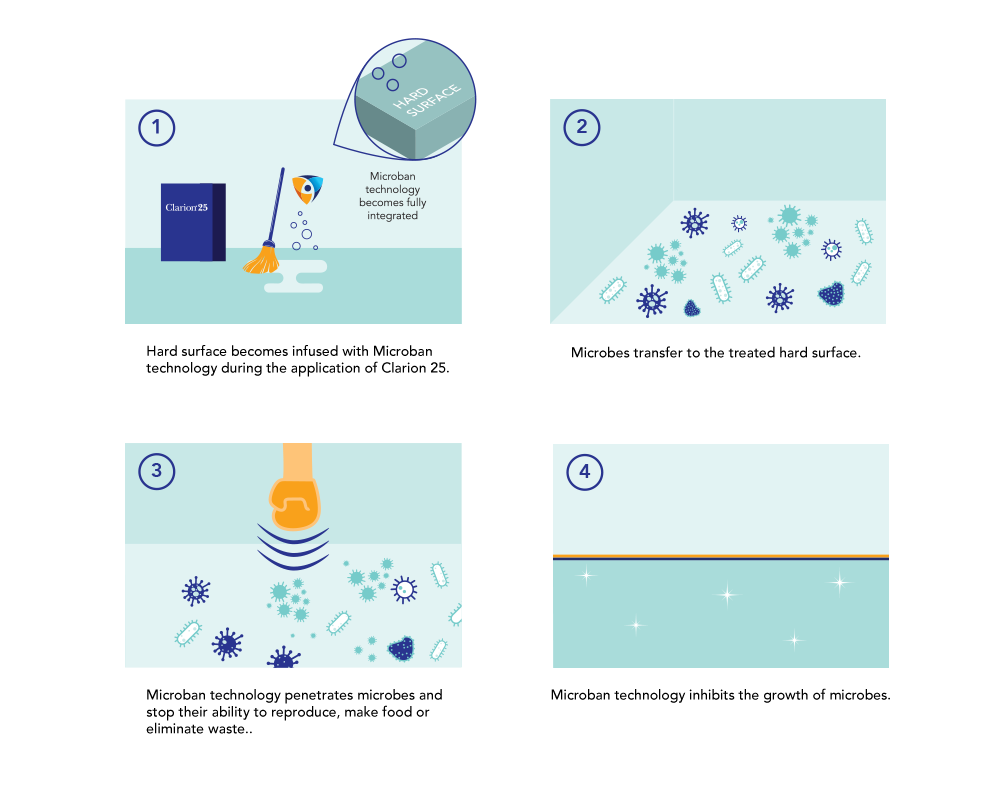 More Than a Product
As part of the Buckeye Hard Floor Care Program, Clarion 25 with Microban technology can provide clarity, durability, and repairability to your floors. The Buckeye Hard Floor Care Program offers products and procedures that reduce labor and product costs while keeping your floors in top condition.
From routine floor care to annual maintenance, Buckeye products include cleaners, floor finishes, and floor strippers that reduce labor costs and give years of beauty to your floors.
Are You Disinfecting Your Floors?
Buckeye Eco Neutral Disinfectant E23 is a multi-purpose disinfectant that can kill a variety of pathogens without attacking floor finish. It has also been approved by the EPA for use against SARS-CoV-2 with a one-minute contact time.
See the results for yourself! Contact a Buckeye representative today to schedule a floor demonstration at your facility.
*Microban technology does not protect users against disease-causing microorganisms. Microban Products Company makes neither direct nor implied public health claims. Normal cleaning practices should be maintained.