Restaurants, retail stores, and schools are preparing to reopen during COVID-19 and the CDC urges these facilities to develop and implement a plan to reduce the risk of exposure.
Following CDC protocols, Buckeye programs can help keep these facilities on the right track. With cleaning products, disinfectants, hand sanitizers and more, Buckeye programs have the necessary tools for visitor well-being.
Complete Hand Hygiene Program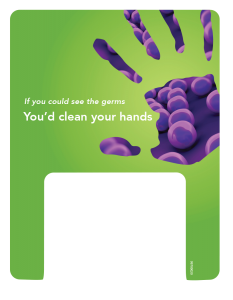 The Symmetry® Hand Hygiene Program offers a complete line of hand hygiene products. Symmetry's high quality, low cost products are less likely to contribute to dry hands and leave no sticky residue behind.
In addition to high quality products and reliable dispensing systems, Symmetry offers education and awareness materials, and behavior modification tools. Education and awareness materials include wall charts, posters, product literature, and handwashing videos that focus on the "HOW" and "WHY" or proper hand hygiene. The Symmetry Behavior Modification System uses customizable placards, visual lighting cues, and more to capture attention in the moment and inspire an immediate hand hygiene event.
Enhanced Cleaning and Disinfecting Program
Frequently clean and disinfect high touch objects, surfaces and areas using our EPA recognized emerging pathogen disinfectants approved for use during COVID-19. Our Eco Proportioning Program is fully integrated with effective, hermetically sealed products, including EPA emerging pathogen disinfectants, for any application.
The complete Eco® Proportioning Program allows you to consider space availability, how many products you will dilute, cost, and whether or not your products need additional security. Eco products are diluted automatically through Eco proportioning systems, ensuring their effectiveness and preventing product waste.
Microban® Antimicrobial Product Floor Protection
A recent study conducted in Intensive Care Units (ICUs) and a COVID-19 General Ward (GW) at Huoshenshan Hospital in Wuhan, China confirmed that the virus was widely distributed on floors, computer mice, trash cans, and sickbed handrails.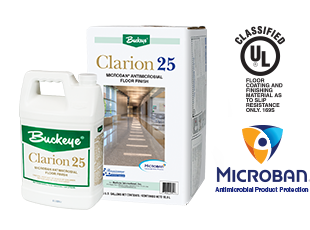 Another study found that bacteria and fungi can live on soles of shoes for up to five days.
Clarion® 25 Microban Antimicrobial Floor Finish and Arena® 300 Microban Antimicrobial Wood Floor Coating can provide an added level of 24/7 proactive protection against damaging microbes. Though Microban is not a substitute for normal cleaning practices, Microban protection continuously fights the growth of microbes, and makes floors easier to clean - keeping floors cleaner, longer at no additional cost to you.
Training Programs
Buckeye's training programs provide step-by-step manuals and customized wall charts to accompany in-depth, in-person training. Provide your staff with the proper products and procedures to meet the needs of your facility.
Social Distancing Decals
In order to reopen, facilities need to maintain safe daily habits in order to reduce the risk of exposure. This includes reminding patrons to wear face coverings, practice social distancing, and avoid public places when sick. Buckeye can help bring awareness to the people in your facility with social distancing signage at entrances, on floors, on walls, on carts, and at registers.
For more information about how Buckeye can assist your facility in reopening, contact your local Buckeye representative.