Microban® Technology
Clarion 25 with Microban technology is the first floor finish to utilize Microban antimicrobial product protection to help inhibit the growth of bacteria. Clarion 25 with Microban technology provides added live-on floor protection for the finish's usable life.
Microban protection is built into Clarion 25 during the manufacturing process. When microbes come in contact with the product surface, Microban protection penetrates the cell wall of the microorganism and disrupts the cell, making the microorganism unable to grow and reproduce. Microban provides continuous antimicrobial product protection for the useful lifetime of the product.
While not a substitute for normal cleaning practices, Microban protection continuously fights the growth of microbes, and makes floors easier to clean - keeping them cleaner, longer at no additional cost to you. Clarion 25 is the only floor finish in the industry with Microban technology.
Hard surface becomes infused with Microban technology during the application of Clarion 25.
Microbes transfer to the treated hard surface.
Microban technology penetrates microbes and stops their ability to reproduce, make food or eliminate waste.
Microban technology inhibits the growth of microbes.
Clarion 25 with Microban Technology
Buckeye's floor finishes are formulated to produce the highest gloss, last longer, and resist dirt being embedded. Clarion 25 with Microban technology has a high gloss, is self-leveling, and dries quickly. It will not powder or yellow, and holds up under extreme conditions. It may be used on vinyl, rubber, asphalt, vinyl composition tile, terrazzo, slate, marble, concrete and quarry tile.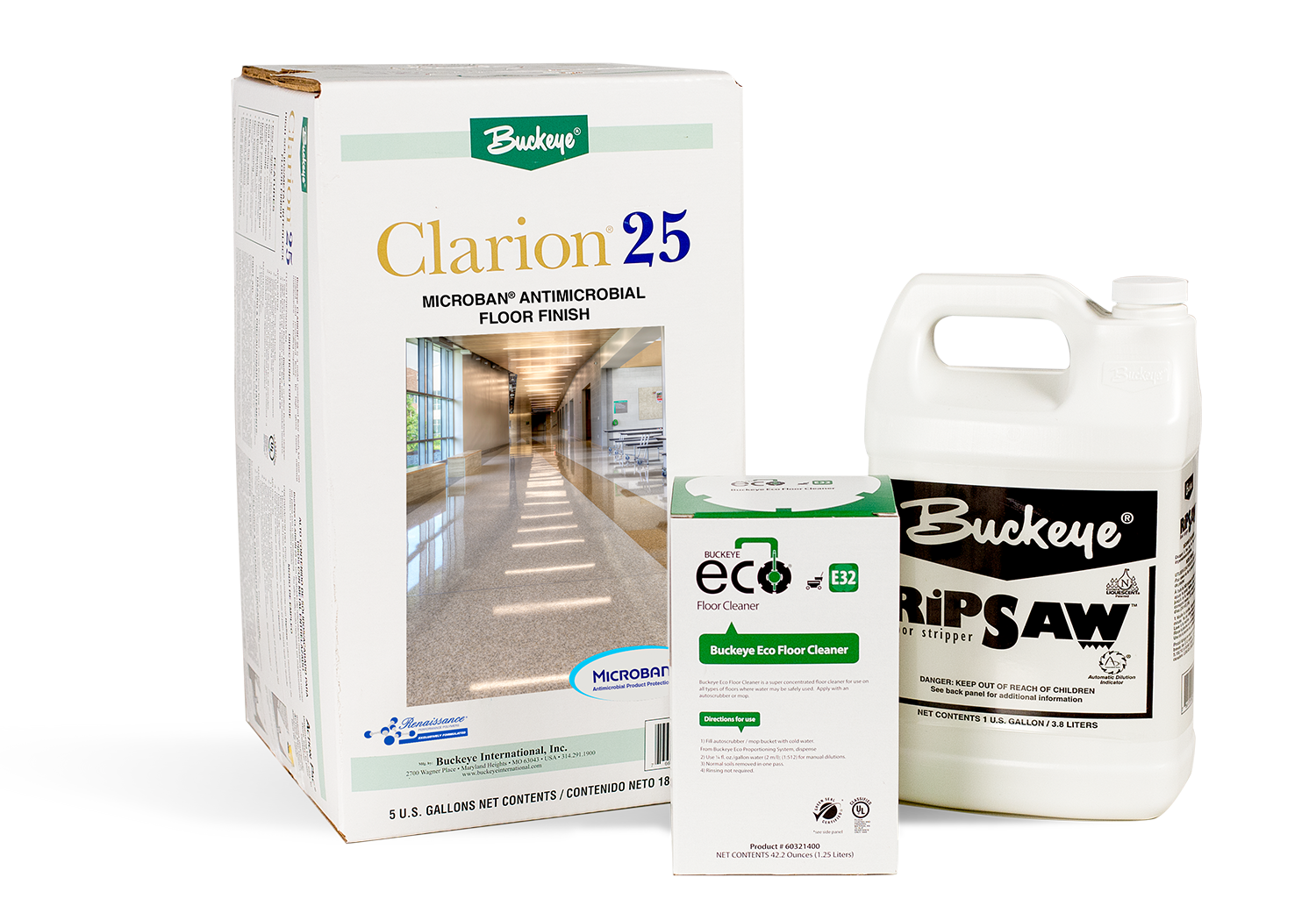 Renaissance Performance Polymers makes polymers specifically for Buckeye floor finishes. Our competitors buy polymers from companies who do not specialize in making finishes.
Renaissance Performance Polymers helps Buckeye floor finishes achieve maximum durability and water clear clarity, which equates to enhanced appearance with the least amount of labor. This provides the best value for our customers.