Microban antimicrobial technology is a built-in ingredient that helps products resist the growth of bacteria, mold, mildew, and other microbes. It is not a substitute for regular cleaning practices, but does continuously fight the growth of microbes and can keep products you purchase cleaner, longer.
What is Microban Used For?
Many companies infuse products with Microban to keep their products cleaner over time. Buckeye uses Microban in Clarion® 25 Floor Finish and Arena® 300 Water-Based Wood Floor Coating. Because they utilize Microban technology, Clarion 25 and Arena 300 have lifetime antimicrobial product protection and live-on floor protection for the products' usable life.
How Does Microban Antimicrobial Technology Work?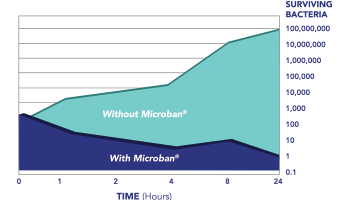 Microban Antimicrobial Technology is built into Clarion 25 and Arena 300 during the manufacturing process. Once the floor finish or wood floor coating is applied to floors, the built-in Microban technology prevents microbes from growing and reproducing. When bacteria, mold, and mildew come in contact with floors, Microban will penetrate the cell wall of the microbe, disrupting the cell and preventing its ability to make food, grow, and reproduce.*
How is Microban Tested?
Clarion 25 with Microban technology has been tested using the JIS Z 2801 standard laboratory method and test protocol for antimicrobial activity. the JIS Z 2801 method tests the ability of hard surfaces to inhibit the growth of microorganisms over a 24-hour period of contact.
Why Microban Matters
Floors and soles of shoes are major sources of contamination in healthcare, retail, and educational facilities. In schools, students play on gym floors quickly transferring microbes between their hands and the floor. According to the American Journal of Infection Control, contact with objects on floors frequently results in the transfer of pathogens to hands.
Microban technology in Clarion 25 and Arena 300 can proactively fight microbes 24 hours a day at no additional cost. Find out more when you contact your Buckeye representative.
*Microban technology does not protect users against disease-causing microorganisms. Microban Products Company makes neither direct nor implied public health claims. Normal cleaning practices should be maintained.