COVID-19 continues to evolve, causing new variants to occur, many of which are being tracked as the pandemic continues. Because these variants are each unique, they can spread at different speeds and can be more resistant to treatments or vaccines. The COVID-19 variant, Omicron, has been detected in most states and is rapidly increasing the proportion of COVID-19 cases in the US. In addition to getting vaccinated, wearing masks, and maintaining social distance, keeping your environment clean can go a long way in preventing the spread of COVID-19.
Facilities hoping to navigate the pandemic should develop a step-by-step cleaning and disinfecting program that will protect people who visit. Buckeye's Door to Floor: 4 Levels of Protection program can help provide those who enter your facility with peace of mind during the pandemic.
Level 1: Protect Yourself with the Symmetry® Hand Hygiene Program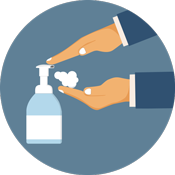 CDC Recommendation: Hand washing is one of the best ways you can help reduce the spread of germs.
Symmetry can help your facility implement a hand hygiene program, providing tools that promote education, awareness, and motivation to practice hand hygiene.
Level 2: Intermittently protect your facility with the Eco® Proportioning Program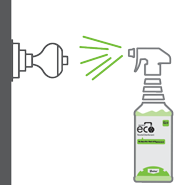 CDC Recommendations: Clean and disinfect frequently touched objects and surfaces following product label directions and proper dwell times.
The US Environmental Protection Agency (EPA) has approved several Buckeye products for use against SARS-Related Coronavirus 2 (SARS-CoV-2) [cause of COVID-19], including Buckeye Eco One-Step Disinfectant-Deodorizer-Cleaner E22. The Eco Proportioning Program comes with training materials and tools to help staff with proper disinfecting procedures.
Microban technology is built-in to these products during the manufacturing process. When microbes come in contact with the product surface, Microban technology penetrates the cell wall of the microorganism and disrupts the cell, making the microorganism unable to grow and reproduce. *
*Microban technology does not protect users against disease-causing microorganisms. Microban Products Company makes neither direct nor implied public health claims. Normal cleaning practices should be maintained.
Level 4: Protect your facility with Gateway Liners and recommendations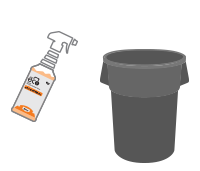 Use stronger, better fitting liners to minimize contaminant exposure. Gateway Liners performs rigorous strength, weight, puncture and tear tests.
Properly dispose trash into lined containers and frequently replace liners. Frequently clean and disinfect inside and outside of trash containers.
Buckeye takes COVID-19 seriously and continues to take a proactive approach in our effort to help minimize exposure to illness. Buckeye programs strive to educate the public on the importance of best cleaning, disinfecting, and hand hygiene practices. Contact your local representative to find out more about Buckeye's Door to Floor: 4 Levels of Protection program.