As the COVID-19 global pandemic continues to evolve, it's important to take steps to protect yourself and those around you. Buckeye takes COVID-19 seriously and continues to take a proactive approach in our effort to prevent the spread of germs. Buckeye programs strive to educate the public on the importance of best cleaning, disinfecting, and hand hygiene practices.
CDC Recommendations
Because there is no vaccine to prevent COVID-19, the CDC has presented several guidelines to help slow the spread. The CDC recommends:
Cleaning Your Hands Often Avoid Close Contact Covering Your Mouth and Nose with a Cloth in Public Covering Coughs and Sneezes Cleaning and Disinfecting
Cleaning and Disinfecting
According to the CDC, everyone should clean and disinfect frequently touched surfaces daily. As always, if surfaces are dirty, clean them. Then disinfect with an Environmental Protection Agency (EPA)-registered disinfectant.
Several Buckeye products have been pre-approved by the EPA for use against emerging enveloped viral pathogens and can be used during the 2019 novel coronavirus outbreak. This list includes:
Buckeye Sanicare Mint Quat® Buckeye Eco Neutral Disinfectant E23 Buckeye Eco One-Step Disinfectant-Deodorizer-Cleaner E22 Buckeye Sanicare Lemon Quat® Buckeye Sanicare Pine Quat® Buckeye Sanicare Quat 128® Buckeye Sanicare Quat 256® Buckeye Sani-Q2TM Buckeye Terminator®
24/7 Antimicrobial Product Protection
A recent study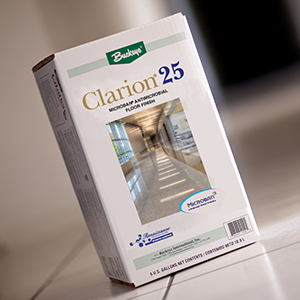 confirmed that bacteria and fungi can live on soles of shoes for up to five days, making it important to remember to disinfect floors and shoes. In Intensive Care Units (ICUs) and a COVID-19 General Ward (GW) at Huoshenshan Hospital in Wuhan China, another study showed SARS-CoV-2 positive tests for surfaces samples of floors, shoe soles of medical staff, computer mice, trash cans, sickbed handrails, and doorknobs.
Buckeye's Clarion® 25 Antimicrobial Floor Finish can proactively and continuously fight microbes on floors. With 24/7 protection, Microban® technology disrupts the cells microorganisms making them unable to grow and reproduce. While not a substitute for normal cleaning practices, Microban protection continuously fights the growth of microbes, and makes floors easier to clean - keeping them cleaner, longer.
Hand Hygiene Cleaning your hands often with soap and water for at least 20 seconds is essential to slowing the spread of COVID-19. The CDC suggests using hand sanitizer that contains at least 60% alcohol if soap is not readily available. The Symmetry® Hand Hygiene Program offers hand soaps and hand sanitizers that will help keep your hands clean after blowing your nose, coughing, sneezing, or touching your eyes, nose, and mouth.
To find the most up-to-date information about CVOID-19 and how you can help slow the spread, visit the CDC and WHO websites.