Due to the COVID-19 pandemic, many new manufacturers have registered with the FDA to produce hand sanitizers, but not all hand sanitizers are created equal. Consumers have reported issues with new hand sanitizers, ranging from the product smell to the inclusion of potentially harmful ingredients.
To date, the FDA has identified nearly 150 hand sanitizers that contain methanol, a "toxic alcohol" that can cause blindness and/or death when absorbed through the skin or swallowed. The FDA is working with manufacturers to recall these products and cautions consumers to be vigilant.
The FDA is addressing potential safety concerns related to products that are not in line with its policy standards by releasing temporary guidance for these additional hand hygiene manufacturers. These new manufacturers, breweries and distilleries can produce sanitizer without oversight from the FDA as long as the ethanol is derived from distillation or fermentation processes typically used for consumable goods, and no other additives or other chemicals have been added to it.
Many of these "start up" products lack emollients that protect the skin from harshness of repeated use of alcohol. They may also have an off-putting odor, similar to garbage or tequila - because new companies have not filtered their ethanol, a process that removes contaminates and malodor.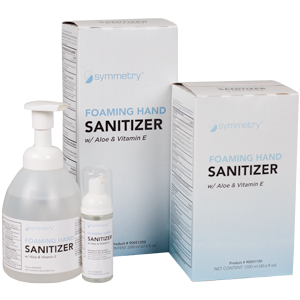 Symmetry maintains superior manufacturing standards amid the influx of hand sanitizers hitting the market during COVID-19. Since its founding, Symmetry has led the way with product formulas that are gentle on the skin with pleasant fragrances. Symmetry products do not contain methanol and are manufactured in an FDA registered and ISO certified facility. They contain only FDA compliant ethanol and perform to the highest standards.
When tested against other products, Symmetry's gentle formulation is preferred. This is demonstrated consistently with side by side trials in the highest use environments. Evaluate Symmetry products by conducting a Symmetry Challenge in your facility.