Knowing the proper procedures to keep a school clean is important for the safety of students and staff, but finding effective training for custodians can be a difficult job. The Buckeye Honors® Custodial Training Program for Schools and Universities offers standardized procedures to help clean any area of your school or university.
Routine Cleaning Procedures with Honors
Honors has broken down routine cleaning into 5 simple steps.
1. High Dust
Clean each room in a clockwise pattern from high to low until all surfaces have been dusted.
2. Spot Clean/Remove Graffiti
Spot clean all nonporous surfaces with Buckeye Eco® All-Purpose Cleaner E11.
Clean glass and dry erase boards with Buckeye Eco Multi-Purpose Glass Cleaner E13.
Spray tough soils with Buckeye Eco Muscle Cleaner E14. Let it dwell for 3 minutes. For stubborn stains, agitate the area and then wipe it clean with a paper towel or microfiber cloth.
3. Dust Mop or Sweep
Sweep and scrape up items stuck to the floor with a putty knife before dust mopping, being careful not to gouge the floor.
4. Empty Trash
Avoid pushing down on the trash as there may be sharp objects in the trash bag.
5. Damp Mop
Post "Wet Floor" signs at the area entrance. Outline the area with a damp mop and fill using a figure-8 technique.
Download our wall chart to help guide the cleaning process.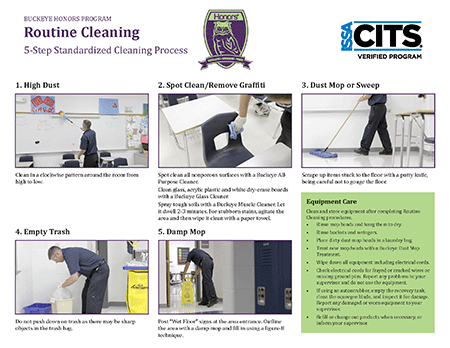 The Complete Honors Program
Routine cleaning is only part of keeping a school clean. The Honors Program provides training in routine cleaning, restroom, shower and locker room cleaning, carpet care, hard floor care, gym floor care, food service procedures, summer cleaning procedures, and product safety.
Each video breaks down the procedures and equipment needed for each custodial task. The Honors website serves as an online custodial training manual with resources including wall charts, Safety Data Sheets (SDS), product literature, and more. Your custodial staff will have 24/7 access to all of the tools they need to keep your school clean.
Honors also offers reporting, testing, and surveys to monitor the level of cleanliness in your facilities. Contact a Buckeye representative to learn about all Honors features and resources.