Dry skin is an unfortunate side-effect of the winter months. Once the heat is turned on indoors, your skin begins to dry out. For healthcare facilities, this issue is only magnified. Frequent handwashing and hand sanitizing can cause the skin on healthcare workers' hands to dry out regardless of the season. During the winter months when skin is prone to flaking, finding a solution for those workers who frequently wash their hands is important.
The Symmetry® Hand Hygiene Program provides products that are gentle on healthcare workers' skin without compromising performance. They reduce common disease-causing bacteria with comprehensive product testing data. When Symmetry products are tested against competitive hand hygiene products in a Symmetry Challenge, respondents overwhelmingly prefer Symmetry.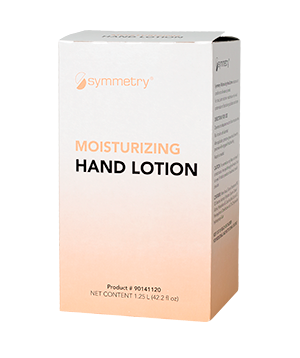 Symmetry hand hygiene products include hand washes and hand sanitizers. Choose between scented and unscented options or select one of Symmetry's Green Seal™ certified hand hygiene products. Because Symmetry is focused on the comfort of its users, Symmetry also provides Moisturizing Hand Lotion to moisturize, condition, and alleviate dry hands.
Beyond hand hygiene products, washing hands with warm water instead of hot water can also help protect the skin from dryness. Both the CDC and World Health Organization (WHO) advocate using warm water instead of hot water in their hand hygiene guidelines to protect skin. WHO also recommends patting hands drying rather than rubbing to help prevent cracking.
No matter the season, hand hygiene is important in healthcare facilities and beyond. For schools, retail facilities and more, looking for gentle hand hygiene products, contact your local Buckeye representative.