School is out for summer and now is the time to reevaluate your floor care routines. While students are playing outdoor sports like baseball and softball, summer time is the perfect chance to revolutionize your wood floor care program.
During the school year, students and athletes come into contact with the gym floor every day. Give your gym floors an added layer of proactive antimicrobial protection with Arena® 300 with Microban® Technology.
Microban protection is built-in to Arena 300 during the manufacturing process, and provides continual 24/7 antimicrobial protection for the life of the coating while it is on your floor. When microbes come in contact with the product surface, Microban protection penetrates the cell wall of the microorganism and disrupts the cell, making the microorganism unable to grow and reproduce. Microban protection continuously fights the growth of microbes. Microban protection makes floors easier to clean and keeps them cleaner, longer.*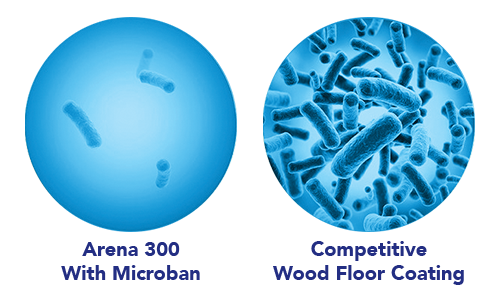 *Images shown are simulations representative of typical bioburden counts on treated and untreated surfaces.
Now is the Time
Many schools hire contractors to recoat their gym floors. The Buckeye Reflections Wood Floor Program allows your in-house staff to do the work easily and efficiently with equipment you already have. Reflections products are safer for your employees to use with no hazardous crosslinkers and Reflections water-based wood floor coatings have some of the lowest VOCs on the market.
The complete Reflections program includes hands-on training with support from online resources and wall charts that can be posted in janitorial closets. Our expert representatives know the routine, interim, and restorative procedures to keep your gym looking its best for the upcoming school year.
Contact a Buckeye representative to schedule a Buckeye Reflections product demonstration or host a wood floor seminar to see how the program can transform your facility.
*Microban technology does not protect users against disease-causing microorganisms. Microban Products Company makes neither direct nor implied public health claims. Normal cleaning practices should be maintained.