Clean restrooms are a large part of providing a pleasant and healthier experience for everyone in your facility. A clean restroom includes clean floors, sinks, toilet bowls, urinals, stalls, showers, walls, and tubs. Effective, easy-to-use products make the cleaning process simpler and ensure that no buildup or grime is left behind.
Buckeye's washroom products are versatile and, when used together, can clean every surface in your facility's restroom. Buckeye's washroom cleaners are Cert® Crème Cleanser, Ever-Clean Dilutable Foaming Acid Restroom Cleaner, Gel Scrub™ Tub & Tile Cleaner, Sanicare™ D.R.C. (Disinfectant Restroom Cleaner), and Sparkle™ Multi-Purpose Acid Cleaner. Each effectively removes hard water buildup, soap scum buildup, and hard water deposits from all hard, nonporous surfaces in your restroom like tubs, sinks, floors, walls, shower stalls, toilet bowls, and urinals.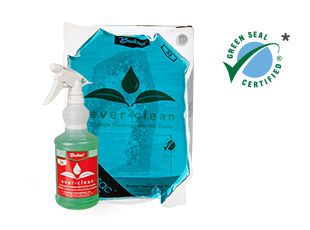 Sanicare is a ready-to-use disinfectant restroom cleaner that inhibits the growth of mold and mildew. Buckeye's acid cleaners include Sparkle, Gel Scrub, and Ever-Clean. Ever-Clean and Gel Scrub are both dilutable products that can be used for multiple applications. Ever-Clean is Green Seal™ certified and works well on grout, as do Gel Scrub and Cert.
Ever-Clean can also be used as a toilet bowl cleaner. Buckeye's other toilet bowl cleaners are Uppercut® Dilutable Toilet Bowl Cleaner and Dy-Phase™ Color Indicating Bowl Cleaner. Each removes stains, incrustations, and hard water rings. Uppercut is dilutable and designed to remove rust without the use of DOT hazardous ingredients. Dy-Phase is a ready-to-use product with a two-color indicator that takes the guesswork out of determining when surfaces are clean.
Buckeye's washroom products complement each other to clean your facility's entire restroom. Contact your local Buckeye representative to see which of Buckeye's washroom products are best for your facility.