The Reflections® Wood Floor Program is built around meeting and exceeding tough environmental regulations, and manufacturing products that are easier and safer for employees to use, while also meeting the stringent expectations of Facility Administrators.
Health Safety Features
Reflections wood floor coatings do not require crosslinkers, which contain polyfunctional aziridene. Other manufacturers use this raw material to crosslink their products for durability. Unfortunately, this crosslinker can have a negative impact on the health of employees and visitors, including respiratory and nervous system health implications.
All Reflections wood floor coatings meet the strict VOC regulations of each state and are single component, 100% urethane products. Using 100% urethane products significantly improves indoor air quality, worker and visitor health safety, and reduces mixing mistakes and overall costs.
Urethane Wood Floor Coatings
Reflections offers both water-based and oil-based wood floor coatings. When a wood floor is first installed, it's important to keep water away while the floor boards expand, contract and stretch. For the first few years of a wood floor's life, oil-based wood floor coatings can help fill the grooves of the new wood floor and move with the floor as it settles. Reflections' Coliseum® Oil-Based Wood Floor Coatings are easy to apply and meet VOC compliancy in every state. They offer superior gloss, exceptional durability, and are scratch and scuff resistant.
For older wood floors, Reflections' Arena® Water-Based Wood Floor Coatings offer the lowest VOCs, allowing for wood floors to be recoated during normal business hours. Unlike oil-based wood floor coatings, Arena Water-Based Wood Floor Coatings allow for light sports play just 48 hours after the last coat is applied and fully cure 1 week after the last coat is applied.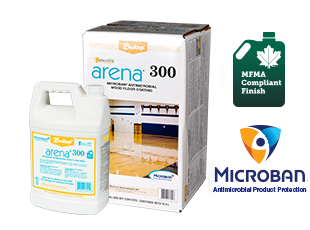 In addition to mild scents, high gloss, and exceptional durability, Arena® 300 with Microban® Technology provides facilities with an extra level of protection. Microban protection is built-in to Arena 300 during the manufacturing process, and provides continual 24/7 antimicrobial protection for the life of the coating while it is on your floor. Microban protection continuously fights the growth of microbes, making floors easier to clean and keeping them cleaner, longer.
Training
Our experts can help you become an expert. When you begin using the Reflections Wood Floor Program, you receive hands-on, personalized training from our expert Reflections representatives. We also provide MFMA (Maple Flooring Manufacturers Association) approved web-based and DVD training, to help guide you as you learn about recoating and maintaining your floors in-house.
Reflections is focused on providing a program that offers the best combination of appearance, application, durability, safety, VOC compliancy, and cost on the market. To learn more about wood floor care and Reflections, contact your local Buckeye representative.