The age of your facility's wood floor has a significant influence on the kind of maintenance required to maintain it. For newer wood floors, coating with oil-based wood floor coatings is the only option. A newer wood floor is more porous and likely to absorb water. However, over time wood floors become less porous and less absorbent. Because of this, coating old wood floors with water-based wood floor coatings becomes the better option.
Benefits of Water-Based Wood Floor Coatings
Water-based wood floor coatings have fewer VOCs, creating a better working environment for staff members coating the wood floors. For schools recoating gym floors, the fast-drying times make it possible to recoat over a long winter or spring break. There's no need to wait for summer to get the job done.
Most importantly, because your wood floor has had years to build up polymer protection, water-based coatings won't cause any damage to your floors. They can also keep wood floors shiny and ready for foot traffic.
Reflections Water-Based Wood Floor Coatings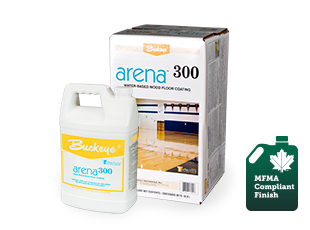 Reflections Arena® water-based wood floor coatings are the best water-based wood floor coatings for any aged wood floor. Arena 300 allows sports play on gym floors only 48 hours after application. With Arena, staff members can wet-prep and coat floors on the same day. The wet screening prep method is recommended for older wood floors as it leaves behind no dust and provides good abrasion for adhesion. If you apply an oil-based wood floor coating after wet prepping the floor, you must wait overnight before coating. Water-based wood floor coatings can be applied in a much shorter window of time. They also have quick cure times and respond well to burnishing.
Their quick-drying times are coupled with low VOCs. In fact, Arena 300 is one of the most environmentally friendly coatings in the industry, with an NFPA (National Fire Protection Association) rating of 0 for Health, Fire, and Reactivity.
Reflections Program
Coating your wood floors takes care and consideration, but it doesn't have to be complicated and difficult. The Reflections® Wood Floor Program comes with all the training and products needed to make it possible to coat your wood floors in house. Reflections representatives provide in-person expertise and training to help your staff complete the job. To find out more about the Reflections Wood Floor program and how to take care of your old wood floor, contact your local Buckeye representative.