The Reflections® Wood Floor Program is designed to protect wood floors of all ages. Exposure to water can negatively impact newer wood floors. However, for older wood floors, Reflections provides water-based wood floor coatings that come with added benefits.
Once you have had your wood floor for 2-3 years and the boards have had time to fill with polymer protection, graduating to a water-based wood floor coating may be the best option. After 2-3 years, the wood is no longer at risk of absorbing too much water and warping.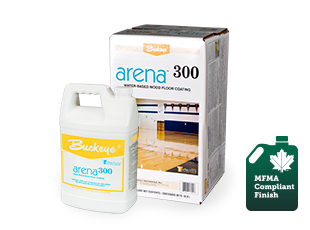 Reflections' Arena® water-based wood floor coatings can speed up the recoating process. They are quick-drying, allowing sports play only 48 hours after application. Reflections Arena 300 and Arena 50 emit less volatile organic compounds (VOCs) than oil-based urethanes. VOCs are odorous gases that can sometimes be dangerous to the health of employees or others in your facility.
Arena water-based wood floor coatings enable you to wet-prep and coat your floors in the same day. They have quick cure times and respond well to burnishing. They are not flammable and Arena 300 is one of the most environmentally friendly coatings in the industry, with an NFPA (National Fire Protection Association) rating of 0 for Health, Fire, and Reactivity.
With fast drying times and less VOCs, water-based coatings are the perfect fit for any facility that needs a quick turnaround. For schools, Arena wood floor coatings make it possible to recoat gym floors throughout the school year.
The Reflections Wood Floor Program comes with all the training needed for your staff to finish the job quickly and accurately. Contact your local Buckeye representative to find out if water-based wood floor coatings are the right choice for your facility.