The 5 Moments of Hand Hygiene approach defines key moments when healthcare workers should perform hand hygiene. Washing or sanitizing hands before or after these moments helps protect the patient, workers, and the healthcare environment against the spread of germs.
5 Moments of Hand Hygiene
These moments often occur when a healthcare worker is in direct contact with a patient. For hand hygiene needs during patient contact, the Symmetry® Hand Hygiene Program provides Point of Care tools. Point of Care tools are strategically placed to provide healthcare workers with hand hygiene options while caring for a patient. They can help reduce the spread of germs by tackling hand hygiene in areas that pose the highest risks.
"The aim of point of care availability is to provide access to hand hygiene products in the 'patient zone' – the location where the patient and healthcare personnel and environment intersect." APIC Implementation Guide: Guide to Hand Hygiene Programs for Infection Prevention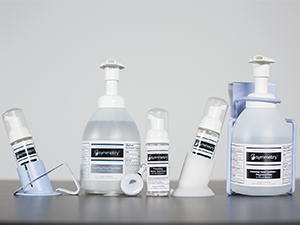 Symmetry Point of Care items include:
*Suction Cups contain Ionpure, an antimicrobial agent approved by the FDA, EPA, and NSF.
In combination with other key features of the Symmetry Hand Hygiene Program like education and awareness tools and behavior modification tools, Symmetry Point of Care tools provide a reminder to healthcare workers about the importance of hand hygiene during key moments. Symmetry's goal is to provide your facility with all the tools needed to help reduce the spread of germs.
Contact your local representative to find out more about the program and to see how you can improve point of care hand hygiene in your facility.