For Buckeye, sustainability means helping to create a safer environment with our products and programs, whether that be for students attending school, maintenance staff working with our products, patients, nurses, and doctors in healthcare settings, or, on a larger scale, the world as a whole. Buckeye products are manufactured, packaged, and labeled with human and environmental safety in mind.
Buckeye's Sustainability Commitment: To provide the most innovative, high performance and cost effective products, packaging, and programs that promote human health and safety.
Attention to human health and environmental safety begins with manufacturing. We engineer our own floor finish polymers, Renaissance Performance Polymers. This gives us full control over the quality of our floor finishes and the impact they have on the environment. In our state-of-the-art polymer production facility all efforts are in place to protect our employees and reduce our environmental footprint. In fact, in regulatory air testing, governmental agencies have rated our VOC emissions as "de minimis" (too small or insignificant to be considered).
In developing our chemistries, we proactively eliminated hard surface cleaners that contained potentially hazardous ingredients including butyl, solvents, and alcohol bases. We also developed Liquescent® technology, which enabled us to manufacture high performance products while adhering to our principle of human health safety.
Each Buckeye product is housed in recyclable containers with biodegradable outer cartons. 1.25 L bags are manufactured with 83% less plastic than rigid containers, meaning less waste ends up in landfills. Eco 1.25 L bags are also hermetically sealed, eliminating direct contact with product and ensuring our concentrated products are being used according to manufacturer specifications. Our products, packaging, and dilution control systems are also color and number coded to make them easier and safer to use.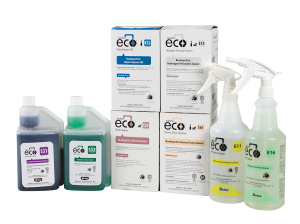 Buckeye's Hard Floor Care Program, Symmetry® Hand Hygiene Program, and Eco® Proportioning Program also offer Green Seal™ certified products. Green Seal "…promotes the manufacture, purchase, and use of environmentally responsible products and services." Buckeye has provided Green Seal certified products since 2004, giving our customers products that are safer for the worker and environment without compromising their performance.
Often, facilities will have trouble finding green cleaning products that work. Buckeye Green Seal certified products not only outperform other green products, they also outperform conventional chemistries. After replacing their green cleaning products with Buckeye Green Seal certified products, a Seattle school district Maintenance Director said, "We are confident that we are using products that are effective in their applications and safer for all end users and those exposed to the chemicals."
Each of Buckeye's programs comes with the proper training to effectively and safely use our products. Buckeye is committed to enhancing product performance and safety through specialized training programs and education. Our training programs focus on worker and environmental safety, and our standardized procedures reduce your product usage, labor, and overall costs. Most importantly, our thorough training programs ensure the job is done properly, resulting in cleaner and safer facilities. For schools, proper attention to cleaning procedures can result in a reduction of absenteeism. For hospitals, it can mean a reduction of HAIs. For all facilities, it means a safer, healthier space for members of the public.
To find out more about how Buckeye's commitment to sustainability can impact your facility contact your local Buckeye representative.