The Eco® Proportioning Program can help standardize cleaning in any facility. With cleaners, disinfectants, sanitizers, and odor eliminators all dispensable from one system, Eco makes cleaning easy for staff of any facility.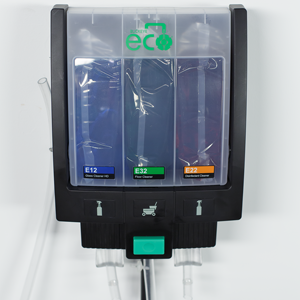 There are three compact Eco proportioning systems, made to fit in virtually any custodial closet. Designed for broad spectrum cleaning, the Eco Pro can dilute for up to six different applications. The more compact Eco Element and Edge are designed for remote, satellite, and focused applications, each diluting for up to three applications. Each proportioning system operates the same, automatically diluting products with the press of a button, taking the guess work out of product dilution.
Eco's extensive product line provides products to clean any part of your facility. They are each color and number coded to make proportioning even easier. Each product's number and color match with its corresponding bottle and proportioning system dispenser. Recently a church in Phoenix, AZ switched from ready-to-use products to the Eco Proportioning Program. They had also been using several different product dispensers throughout their facilities, making diluting cleaners a confusing, time consuming process. The Eco proportioning systems automatically diluted products and each Eco product, bottle, and dispenser is labeled with a corresponding color and number making it easy to distinguish between products. Switching to Eco helped consolidate their cleaning supplies and develop a better cleaning system.
For schools looking to implement the Eco Proportioning Program, Buckeye's Honors Custodial Training Program can help guide staff as they clean. Available 24 hours a day, the Honors Program provides training in routine cleaning, restroom, shower and locker room cleaning, carpet care, hard floor care, gym floor care, food service procedures, summer cleaning procedures, and product safety. The program presents easy to follow procedures that are researched and proven to increase efficiency with videos, tests, training manuals, product literature, and wall charts.
For more information about the Eco Proportioning Program and how it can simplify cleaning in your facility, contact your local Buckeye representative.