As K-12 schools develop plans for reopening during 2021, having a comprehensive training program for custodial staff is a priority. While schools and universities navigate reopening, Buckeye continues to take a proactive approach in our effort to prevent illness. Buckeye programs strive to educate custodial staff on the importance of best cleaning, disinfecting, and hand hygiene practices.
The Buckeye Honors Custodial Training Program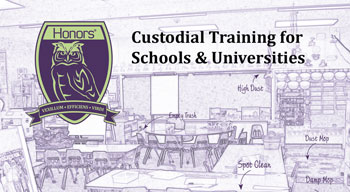 The Buckeye Honors® Custodial Training Program presents the products, procedures, and training needed to meet a school or university's highest standards. Buckeye's goal is to make cleaning and maintenance procedures easy and rewarding, providing products that are safer for the worker and environment that produce excellent results.
The Honors website features the complete program and materials available 24 hours a day for your convenience. Watch videos, read product literature, and follow wallcharts before assessing your knowledge with tests available for each segment.
COVID-19 Additions
Honors now features videos and tests on enhanced disinfecting and proper hand hygiene procedures during COVID-19. The Honors manual has also been updated to include these new procedures. New downloadable wallcharts, posters, and checklists are available to guide your staff through these procedures.
Contact your local representative to learn more about Honors and find out how Buckeye can help your school or university reduce the spread of COVID-19.