Last year the spread of the flu reached epidemic levels across the United States. With flu season upon us, it's important to remember the best ways to keep the flu at bay. The most effective way to prevent the flu is to get the flu vaccine. The CDC is recommending individuals get vaccinated by the end of October.
There are other important ways to prevent the spread of the flu. Because the flu is spread through contact, the CDC also recommends washing hands often. The CDC provides tips for when and how to wash your hands to help protect the health of those around you here.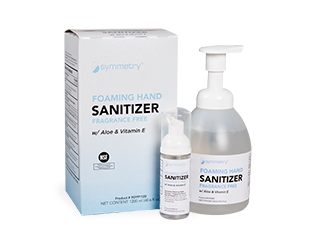 In your facility, implementing a complete hand hygiene program can help reduce the spread of germs. The Symmetry® Hand Hygiene Program has all the tools needed to tackle the flu in any facility. First and foremost, Symmetry products reduce common disease-causing bacteria. All Symmetry products clean your hands without drying them out or leaving behind a sticky residue.
Additionally, encouraging people in your facility to practice proper hand hygiene is one of the most important steps in reducing the spread of the flu and other germs. Symmetry has education and awareness tools like posters, wall charts, and handwashing videos designed to demonstrate and explain the importance of proper hand hygiene.
The Symmetry Hand Hygiene Program also implements behavioral science with the Symmetry Behavior Modification System (SBMS). These tools help drive immediate hand hygiene practices, encouraging people to wash or sanitize their hands with eye-catching placards and signs. Both SBMS and education and awareness tools offered by Symmetry can be customized for any facility. Use your facility logo, colors, or catchphrase to help inspire proper hand hygiene.
The flu can spread fast, but Symmetry hand hygiene products and tools can help keep the well-being of the people in your facility in mind. Contact your local Buckeye representative to find out more about Symmetry and fighting the flu.