On May 5th, the World Health Organization (WHO) is celebrating World Hand Hygiene Day. This year, their goal is to prevent sepsis in healthcare. Sepsis is a life-threatening organ disfunction that can be a result of infection. According to WHO, "Sepsis is estimated to affect more than 30 million patients every year worldwide." The CDC reports that one in three patients who die in a hospital have sepsis.
WHO's calls to action for May 5th, 2018 include:
Sepsis is not the only complication that can result from infection. The best way to counteract these complications is to stop the spread of infection. On their website, WHO has a variety of resources and tools for anyone looking to understand or promote hand hygiene awareness.
The best way to prevent the spread of healthcare associated infections, HAIs, is to improve hand hygiene practices. In healthcare facilities, healthy hand hygiene practices can sometimes be neglected or avoided if hand sanitizers dry out the skin or staff members are not constantly reminded.
The best way to ensure both patients and staff are washing and sanitizing their hands regularly is with a complete hand hygiene program. The Symmetry® Hand Hygiene Program has a variety of hand washes and sanitizers that reduce common disease-causing bacteria. Symmetry dispensers have large sight windows to check product levels, and Symmetry hand hygiene products are packaged in no-drip bags.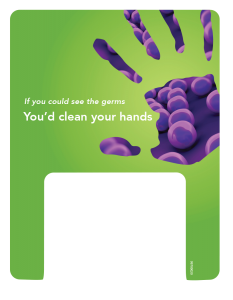 Symmetry also has important added benefits. Having access to hand hygiene products is often not enough to encourage the people in your facility to wash their hands. Symmetry has customizable education and awareness tools, designed to maximize hand hygiene practices in your facility. These include wall charts, posters, product literature, and hand washing videos. The Symmetry program incorporates behavioral science into placards and signs to inspire people to wash or sanitize their hands.
Careful attention to hand hygiene in healthcare facilities can improve hand hygiene compliance. Contact your local Symmetry representative to find out more about how Symmetry can improve hand hygiene compliance in your facility.