Cleaners with high alkalinity levels can cause your floor finish to lose its gloss, become brittle and powder, or remove the finish altogether. Eco® pH Neutral Cleaner E31 has the cleaning power that comes with high alkalinity levels without causing damage to your floor finish. It is designed in conjunction with Buckeye floor finishes to reduce strip outs and extend the life of your floors.
Eco pH Neutral Cleaner E31 is a versatile cleaner that can be applied with a cloth, sponge, trigger spray bottle, mop and bucket, or an automatic floor scrubber. It works well on floors, walls, fixtures, and other hard surfaces where water is used.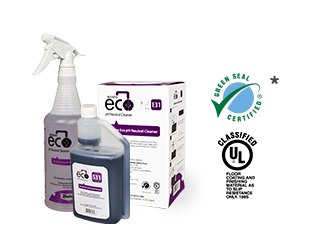 Because E31 is a pH neutral cleaner, it effectively removes dirt, soils, and greases without compromising employee safety. It meets Green Seal™ Standard GS-37 based on effective performance, concentration of product, minimized/recycled packaging, and protective limits on VOCs and human & environmental toxicity. It is also UL® listed for slip resistance. E31 is super concentrated and formulated with a patented surfactant combination. It does not contain APEO or EDTA, and its neutral pH levels will not contribute to pH problems in sewer discharge.
E31 works in hard water and dilutes in cold water to save money. With E31, there is no rinsing required and no dull film left behind. Its cleaning ability is outstanding, leaving behind only a pleasant lavender fragrance.
Eco pH Neutral Cleaner E31 is part of Buckeye's Eco Proportioning Program. The Eco Proportioning Program's proportioning systems offer push-button and automatic fill proportioning for ease of use, making it virtually automatic to properly dilute products. Eco proportioning systems make diluting products quick, easy, accurate, and cost-effective.
Contact your local Buckeye representative to find out more about Eco pH Neutral Cleaner E31 and the Eco Proportioning Program.