Combatting the spread of HAIs (healthcare associated infections) in healthcare facilities is a complex task that requires a multi-faceted approach. Hospitals and other healthcare facilities require an effective cleaning and maintenance program to protect staff, visitors, and patients from the spread of germs and illness.
Hand Hygiene
The CDC states that hand hygiene is one of the most important steps in reducing the spread of germs. Making hand sanitizer and hand washes readily available to staff and visitors can help reduce the risk of the spread of germs, but there are other ways an effective hand hygiene program can combat disease.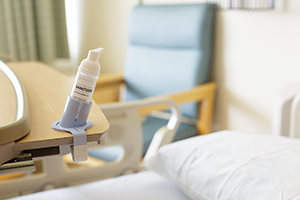 In addition to top-of-the-line products, offering education and awareness materials alongside behavior modification tools that inspire immediate hand hygiene practices can increase compliance rates in healthcare facilities.
The Symmetry® Hand Hygiene Program offers those tools and more. Symmetry's Point of Care tools make hand hygiene available when it's needed most. For example, the 50 ml Tray Table/W.O.W. Clip puts sanitizer right at the patient's bedside for easy access before and after patient care.
Cleaning and Disinfecting
Proper cleaning and disinfecting procedures can have a huge impact on the spread of germs in any healthcare facility. The Buckeye Eco® Proportioning Program simplifies cleaning and disinfecting with automatic dilution, ensuring important products like disinfectants are properly diluted every time.
Eco products include cleaners, disinfectants, and sanitizers for every surface in a hospital or healthcare facility. EPA expects products on List N to kill all strains and variants of the coronavirus SARS-CoV-2 (COVID-19) when used according to the label directions. All Eco disinfectants are on List-N.
However, a cleaning program is not complete without the proper training. Cleaning and disinfecting procedures need to be followed carefully so areas like patient rooms and hospital waiting rooms remain free of germs. To ensure hospital staff have access to the information they need, Buckeye created the Prescription Training Program.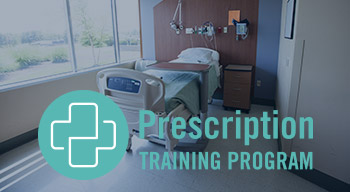 Prescription is a complete maintenance program for hospitals that presents the products, procedures, and training needed to meet your facility's highest standards. The Prescription program provides training in routine cleaning, patient room cleaning, surgery room cleaning, restroom, carpet care, hard floor care, and product safety. This program and its resources are available online, 24 hours a day.
Reducing the spread of HAIs is a constant battle. Make sure the people in your healthcare facility have access to the tools they need to combat illness. Contact your local sales representative to learn more.