Because 99% of trash can liners go to the landfill, practicing source reduction by manufacturing liners with less plastic is the most sustainable approach. Gateway achieves this by manufacturing thinner liners with the highest quality resins that provide industry leading strength, quality, and consistency.
Performance
Gateway's high-quality resins make it possible to manufacture lighter liners without losing quality or strength. Gateway is the only company using the R-Spec proprietary formulation. Compared to competitive liners, Gateway liners have up to: 45% higher tensile strength 33% more puncture resistance 31% more weight capacity 28% more tear resistance By maximizing liner performance and reducing liner thickness, Gateway is able to exceed quality expectations while reducing the amount of plastic required to manufacture its liners.
R-Fit Liners
R-Fit liners are the lightest, strongest, and greenest solution to significantly reduce the plastic waste that impacts our environment. Finding the right liner to fit the trash cans in your facilities can greatly reduce plastic waste. R-Fit liners have trash can specific sizing, eliminating waste due to excessive overhang.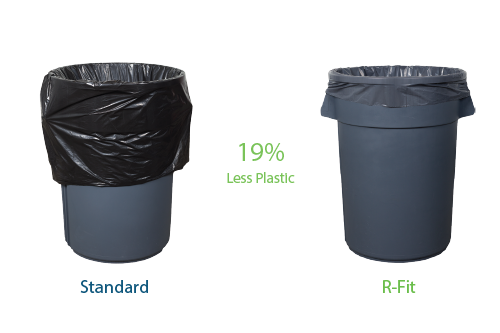 Waste Reduction
In combination, R-Spec liners and R-Fit liners can result in significant waste reduction. Compared to standard competitive liners, Gateway R-Spec liners reduce plastic waste by 30%. On average, Gateway customers reduce the amount of plastic reaching landfills by 39%. According to EPA standards focusing on source reduction, Gateway Liners is the industry's greenest solution. Compare your current liner to Gateway Liners. Utilize the Gateway Green Savings Calculator in the Gateway Liner App to determine how much plastic you can save by switching liners. Download our Gateway Liner App on the Apple App Store or Google Play Store. Contact your local Buckeye representative to learn more about Gateway and sustainability.