Proper cleaning and disinfecting begin with proper product dilution. Diluting products by hand can be messy, unsafe, and inaccurate. Eco® proportioning systems seamlessly and accurately dilute products without exposing workers to concentrated products.
Accurate Product Dilution
When products are diluted by hand, user error can result in incorrect product dilution. This can be detrimental to the effectiveness of cleaners and disinfectants. Eco proportioning systems prevent dilution mistakes by automatically diluting concentrated products with the push of a button.
Eco proportioning systems are easy to operate and color and number coded making products easy to identify while filling spray bottles and mop buckets.
Protection from Harsh Chemicals
Like many cleaners and disinfectants, Eco products are super concentrated to reduce labor time and offer superior end use cost. Diluting products by hand exposes workers to super concentrated products. Eco proportioning systems are self-contained, meaning staff members have no contact with concentrated products or exposed tubing.
Compact
Eco proportioning systems can fit in virtually any custodial closet. Depending on the needs of your facility, choose between the Eco Pro®, Eco Element®, and Eco Edge®. The Eco Pro is designed for broad spectrum cleaning and can dilute for up to six different applications. The Eco Element and Eco Edge are designed for remote and focused applications, diluting for up to 3 different applications.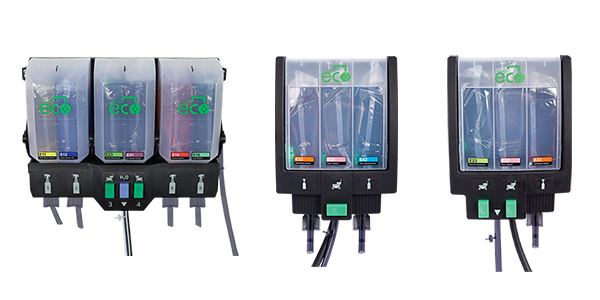 Sustainability
Because Eco proportioning systems utilize concentrated products, less packaging is required to ship Eco products. Eco's packaging consists of recycled and post-consumer material and Eco 1.25 L bags are manufactured with 83% less plastic than rigid containers.
The Eco Proportioning Program
Eco proportioning systems are part of the larger Eco Proportioning Program. This program includes training and educational materials highlighting proper procedures that promote human health and safety.
Keep your facility clean with the Eco proportioning program. Contact your Buckeye representative to see which proportioning systems and products are right for your facility.