Eco® Glass Cleaner HD E12 S12 is an effective, environmentally responsible glass cleaner. It is Green Seal™ certified, meeting Green Seal Standard GS-37 based on effective performance, concentrated volume, minimized/recycled packaging, and protective limits on VOCs and human and environmental toxicity. It contains no alcohol, butyl, or ammonia— ingredients that may be harmful to employees or damaging to surfaces.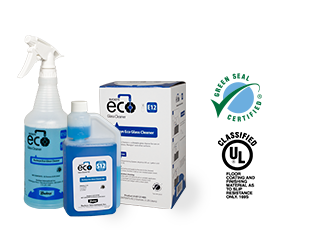 Eco Glass Cleaner HD E12 S12 is designed for use on glass, windows, mirrors, Plexiglas®, computer screens, optical scanners etc. It's quick drying with a pleasant ocean surf fragrance and leaves behind no residue or streaks, reducing time and labor.
E12 is one of several Eco products that is available in Eco .95 L squeeze & pour bottles. This packaging provides easy measuring and dilutes to create 17 quarts worth of product. Eco Glass Cleaner HD also comes in Eco's 1.25 L bag. The 1.25 L bag yields 99% of the product and is automatically diluted through an Eco proportioning system, creating 22 quarts of end-use product.
Buckeye's Eco Proportioning Program provides value and convenience with systems, packaging, and chemistry that is economical, ecologically friendly, reliable, simple to use, and designed for your facility to achieve maximum return on your investment. To learn more about Eco Glass Cleaner HD E12 S12 and the Eco Proportioning Program, contact your local Buckeye representative.