Eco® All-Purpose Cleaner E11 S11 is a super concentrated, versatile cleaner that quickly breaks down and lifts soils, preventing them from being redeposited on surfaces. With E11, there is no rinsing required and no dull film left behind.
E11 is one product designed for many jobs. It has two dilution rates for multiple applications and can be used with mop buckets, automatic scrubbers, spray bottles, and other applications. It can be used on floors, walls, ceramic tile, partitions, fixtures, countertops, and other hard, nonporous surfaces. It does not require more product to work under hard water conditions and dilutes in cold water to save money.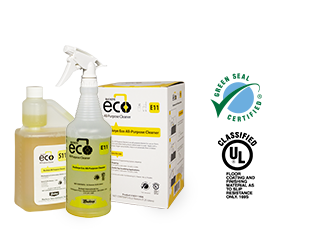 E11 is designed with human and environmental safety in mind. It's formulated without harmful chemicals like APEO and EDTA. It is also Green Seal™ certified, meeting Green Seal Standard GS-37 based on effective performance, concentrated volume, minimized/recycled packaging and protective limits on VOCs and human & environmental toxicity.
Like all products in Buckeye's Eco Proportioning Program, E11 has a low end-use cost. The Eco Proportioning Program uses proportioning systems to automatically dilute products at the proper ratio, ensuring no product goes to waste and saving employee time. The Eco Pro proportioning system can dilute for up to 6 applications while the Eco Element is more compact, diluting for up to 3 applications.
Eco All-Purpose Cleaner is also available in the S11 Eco .95 L Squeeze & Pour Bottle. This is the same product, packaged for individual product dilution. Whether you don't have the space for a full proportioning system or have a need to dilute for more applications than your proportioning system provides, Eco Squeeze & Pour Bottles make it easy to measure and dilute individual products at the correct rate.
You can customize the Eco Proportioning Program to meet your facility's needs, considering your space availability, how many products you will dilute, and additional security options. Contact your local buckeye representative to learn more about how Eco fits in your facility.