Eco® Acid Cleaner E16 is a concentrated foaming acid cleaner that removes hard water deposits, standing water rings, and soap scum buildup from a variety of surfaces. This versatile acid cleaner is made for spray bottle application and has a mild citrus fragrance with no harsh odor.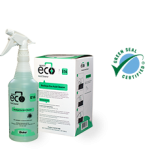 E16 uses organic acid and passes performance tests while reducing the use of potentially hazardous ingredients. It is independently certified by Green Seal™, meeting Green Seal Standard GS-37. Employee exposure to harsh chemicals is greatly reduced, as is the use of energy and natural resources.
E16 comes in a 1.25 L bag that yields the equivalent of 22 quarts of product. Because E16 and other Eco products are part of the Eco Proportioning Program, they come highly concentrated, yield more product when diluted, and take up less storage space. The Eco Proportioning Program comes with proportioning systems that automatically dilute products, taking the guess work out of product dilution, saving inventory space and employee training dollars.
Learn more about the complete Eco Proportioning Program here.