During the winter months, respiratory diseases like COVID-19, influenza, and RSV are spread more easily. Implementing an effective cleaning and disinfecting program can reduce the spread of germs. The Eco Proportioning Program is equipped with multi-purpose disinfectants that remove soil and effectively kill a wide array of organisms.
Eco Disinfectants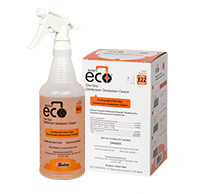 Eco One-Step Disinfectant/Deodorizer/Cleaner E22 cleans, disinfects, and deodorizes in one step. This hospital-use disinfectant is bactericidal, virucidal, and fungicidal.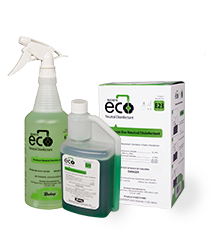 Eco Neutral Disinfectant E23 is a multipurpose disinfectant designed for use in hospital, healthcare, and industrial settings. It is ideal for routine cleaning and floor care maintenance.
E22 and E23 may both be used against SARS-Related Coronavirus 2 (SARSCoV-2) [cause of COVID-19] with a one-minute contact time at a ½ oz./gal. dilution rate.
Proper Disinfection Can:
Combat absenteeism in schools
Reduce HAIs (healthcare-associated-infections) in healthcare facilities
Create a safer environment for retail customers and staff
In-Person and Online Training
Buckeye offers in-person and online training for all products and programs, ensuring your staff has the tools they need to keep your facility clean and looking its best. Complement in-person training with the Honors® Custodial Training Program for Schools and Universities, or the Prescription Hospital Environmental Services Maintenance Program. Honors and Prescription training videos cover routine, interim, and restorative maintenance procedures. Both platforms include additional resources like PowerPoints, wall charts, and posters. Users can take tests to assess their knowledge at the end of each video and supervisors can monitor test scores from the reports page. With new videos detailing enhanced disinfecting procedures, Honors and Prescription can help keep your staff informed.
The Eco Proportioning Program
Eco disinfectants are part of the Eco Proportioning Program. The Eco Proportioning Program utilizes proportioning systems to automatically dilute products at the correct rate, removing guesswork from the process.
Eco's extensive line of super concentrated products includes disinfectants, cleaners, sanitizers, and more. With effective, ecologically friendly chemistry, Eco products are designed to protect workers and preserve the environment.
To learn more about Eco disinfectants and the complete Eco Proportioning Program, contact your Buckeye representative.