Buckeye's commitment to sustainability means providing the most innovative, high performance and cost-effective products, packaging and programs that promote human health and safety. This means removing potentially hazardous ingredients from products, using recyclable packaging, and much more.
The Eco Proportioning Program provides some of the best examples of Buckeye's commitment to sustainability. The proportioning systems, packaging, and chemistry are economical, ecologically friendly, and reliable. For facilities that are ecologically focused, Eco offers 8 Green Seal certified products.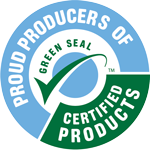 Green Seal develops standards that are credible, transparent, and helpful in making the most sustainable choices. Green Seal standards are designed with consideration of the total environmental impact of a product in mind. A product with the Green Seal Certification Mark has undergone rigorous testing and proven that it has a reduced impact on the environment.
Eco's Green Seal certified products meet Green Seal Standard GS-37 based on effective performance, concentrated volume, minimized/recycled packaging, and protective limits on: VOCs and human & environmental toxicity. These products include Eco E11 All-Purpose Cleaner, E12 Glass Cleaner HD, E15 Hydrogen Peroxide Cleaner, E16 Acid Cleaner, E31 pH Neutral Cleaner, E32 Floor Cleaner Fragrance-Free, E33 Floor Cleaner, and E61 Heavy-Duty Cleaner.
The Eco Proportioning Program's Green Seal certified products enable ecologically friendly facilities to maintain their standards of sustainability without compromising the quality of the overall cleaning program. Eco Proportioning systems are compact, fitting in virtually any custodial closet. Its flexible packaging allows for a 99.9% product evacuation rate, and its super concentrated products reduce labor time. On top of all of the added benefits Eco provides, Eco's Green Seal certified products work better than typical green cleaning products and often better than standard cleaning products.
Buckeye's other custodial programs like the Hard Floor Care Program and the Symmetry® Hand Hygiene Program also offer Green Seal certified products. To learn more about all of Buckeye's Green Seal certified products and Buckeye's Eco Proportioning Program, contact your local Buckeye representative.