Preventing the spread of the flu begins with the flu shot. This year getting the flu shot means more than protecting yourself and others from the flu. It can reduce the strain on healthcare systems as they continue to respond to the COVID-19 pandemic. The CDC recommends getting your flu shot before the end of October, but the vaccine is usually available for most of the flu season.
In addition to getting the flu shot, implementing a hand hygiene program can keep germs from spreading in your facility. Washing your hands is one of the most effective ways to prevent the spread of germs. The Symmetry® Hand Hygiene Program offers a complete line of hand hygiene products that are gentle on your hands while reducing common disease-causing bacteria.
Symmetry also offers tools to help encourage people in your facility to practice proper hand hygiene. These tools are key to reducing the spread of diseases like the flu and COVID-19. The Symmetry Behavior Modification System (SBMS) uses behavioral science to drive immediate hand hygiene practices with eye-catching customizable placards and signs. Symmetry also offers educational signs, posters, and videos to demonstrate the importance of hand hygiene.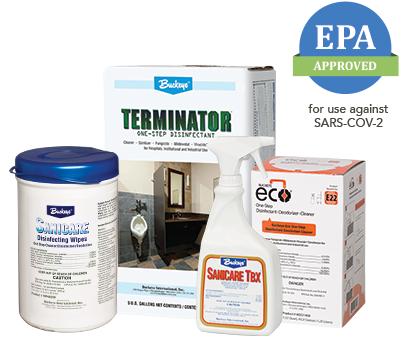 Facilities can also fight the flu, COVID-19, and other respiratory infections with Buckeye's disinfectants. Disinfecting frequently touched objects and surfaces is key in preventing the spread of germs. The US Environmental Protection Agency (EPA) has approved several Buckeye products for use against COVID-19. These products include Buckeye Terminator™, Eco® One-Step Disinfectant-Deodorizer-Cleaner E22, Sanicare Disinfecting Wipes, and Sanicare TBX™.
For more information about Buckeye programs and how to prevent the spread of the flu in your facility, contact your local Buckeye representative.