Cure time. Floor prep. Safety. A lot can factor into coating your wood floors. Here are some things to consider before deciding which wood floor coating is best for your facility.
A Floor's Age
Simply put, oil-based wood floor coatings are the only choice for newly installed wood floors. Because wood is composed of cellulose, it is porous enough to absorb water. This is why wood often expands when the air is moist in the summer and contracts when the air is dry in the winter. Over time, wood develops polymer protection against water. Until floors have been coated at least 4 times, it's best to use an oil-based wood floor coating.
VOCs and Cure Time
Volatile Organic Compounds (VOCs) are odorous gases that can sometimes be dangerous to the health of employees or others in your facility.
While curing, oil-based wood floor coatings often emit more VOCs than water-based wood floor coatings. Oil-based wood floor coatings can take 2 weeks to fully cure. This means, for places like schools, wood floors must be coated in the summer to give them enough time to cure and disperse any VOCs emitted.
For water-based wood floor coatings, cure time is much quicker. Gym floors coated with a water-based wood floor coating can be played on within 2-3 days and are fully cured within a week. They also emit less VOCs while curing. Because of this, a school's gym floor can be coated with a water-based coating over a long weekend or during spring break. This gives staff the flexibility to choose when to recoat the floors and keeps heavy odors away from teachers and students.
Burnishing
Oil-based wood floor coatings do not respond well to burnishing. However, some water-based wood floor coatings can be burnished to bring back gloss and traction to a wood floor. Buckeye's Arena 300 responds well to burnishing, helping you regain the shine and durability of your wood floor without having to completely recoat.
Prepping the Floor
There are two ways to prepare a wood floor before coating it, wet prep and dry prep. Dry prepping your floors is not ideal because it leaves behind lots of dust. However, if you plan to use an oil-based wood floor coating and wish to prep and coat your floors on the same day, dry prepping is the only option. This is especially true for new wood floors. Wet prepping new wood floors can cause the floor boards to expand and lead to cupping and peeling. If your wood floors are new, dry prepping them before applying an oil-based coating is the best way to coat your floors.
With older floors and water-based wood floor coatings, you can wet-prep and coat the floor on the same day. This eliminates dust and saves valuable time.
Environmental Safety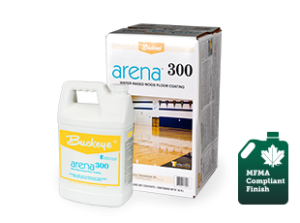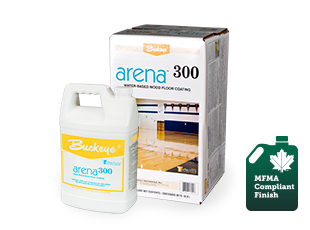 Water-based coatings are not flammable. Buckeye's Arena® 300 is one of the most environmentally safe coatings in the industry, with a NFPA (National Fire Protection Association) rating of 0 for Health, Fire, and Reactivity. Also, when you have finished coating your floors with a water-based wood floor coating like Arena 300, all tools used during the process can be cleaned with water.
For oil-based finishes, this is not the case. Oil-based coatings are flammable and once you have finished coating the floor, the tools used to complete the process must be cleaned with flammable mineral spirits. Oil-based wood floor coatings often have more significant warnings on safety data sheets and, as mentioned, emit more volatile organic compounds into the air.
Room Temperature and Humidity
Fluctuation in room temperature can often cause wood floors to expand or shrink, causing cracks and air pockets to form between boards. The Maple Floor Manufacturing Association recommends that maple wood gyms be kept at a relative humidity of 35-50% and a temperature between 55-75 degrees Fahrenheit year round. While no coatings are immune to the problems that come with changes in temperature and humidity, oil-based coatings tend to resist cracking better than water-based coatings. If your facility has difficulty regulating its temperature or relative humidity, an oil-based coating may be the best choice.
Overall Savings
In addition to the features mentioned above, oil-based wood floor coatings are often less expensive to manufacture and therefore cheaper for the end user. They also only require 1-2 coats in comparison to the 2-3 required for water-based wood floor coatings.
In contrast, the overall savings offered by water-based wood floor coatings can make a difference in your facility. Water-based coatings can save staff time when prepping the floor. Their quick cure time can make the most of your gym floor year round.
Buckeye's Reflections® Wood Floor Program has oil-based and water-based urethanes depending on your facility's needs. To find out more about Reflections and which wood floor coatings are right for your facility, contact your local Buckeye representative.