Newly installed wood floors must be handled with care. New wood floors are far more susceptible to water damage than their older counterparts. Because newer wood floors have not had time to fill with polymer protection, the wood absorbs water more easily. This water absorption can lead to cupping or warping. Due to seasonal fluctuation and acclimation it is recommended to dry screen and use solvent-based oil modified urethanes for the first two, three or four recoats because of its flexibility. Using water-based coatings too soon can potentially cause boards to bond together to create one large panel of wood. This is called panelization.
The Reflections® Wood Floor Program offers oil-based wood floor coatings that are designed to give your gym floors excellent durability and brilliant shine. Reflections can extend the life of your gym floors, providing years of beauty, performance, safety, and durability.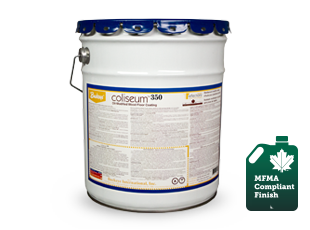 Reflections oil-based wood floor coatings include Coliseum® 450, Coliseum® 350, Coliseum® 275, and Super 40 Gym Coating. Each coating is extremely durable and can achieve high gloss with one to two coats. Reflections has VOC (volatile organic compounds) compliant oil-based wood floor coatings with less harsh odors. They are also not as viscous making them easier to apply.
Age isn't the only factor in choosing a wood floor coating. Not all new gym floors are the same and other factors such as time and equipment availability play a part in the recoating process. The care put into a new gym floor can last for the entire lifetime of a floor. Reflections experts understand each component of the environment of your gym. Reflections provides the products and training that fit your facility and its staff members best. Because coating your gym floors is not the only thing needed to maintain them, Reflections has all the products you'll need for daily and long-term maintenance.
Ensure your new gym floor is well taken care of with Reflections training. This includes in-person training from Buckeye representatives as well as online training through the Buckeye Honors® Training Program. The Honors Custodial Training Program for schools and universities is available 24/7 with videos, PowerPoints, wall charts, and product literature to help staff members with wood floor care and more. Supervisors have the ability to assign videos and tests on various maintenance tasks to staff members. They can then view the results to ensure each staff member is up-to-date on maintenance procedures.
To find out more about how Reflections can be customized to fit your gym floor, contact your local Buckeye representative.