Maintaining a clean school is about more than appearance. Studies have shown that student achievement can be negatively or positively impacted by the surrounding school environment. Creating a positive environment that promotes the health and safety of students, staff, and visitors is a key component of the Buckeye Hard Floor Care Program.
Cleaner schools begin from the floor up. The newest addition to Buckeye's Hard Floor Care Program, Clarion® 25 with Microban® technology, is one of the easiest ways to improve school floor cleanliness. Clarion 25 is the first floor finish to utilize Microban surface modification technology. Microban embeds an EPA registered antimicrobial into the floor finish, preventing bacteria from colonizing and multiplying and adding an extra layer of protection on top of standard cleaning and disinfecting. Using Clarion 25 with Microban, you can have peace of mind while students study in a cleaner environment.
Like all of Buckeye's floor finishes, Clarion 25 is formulated with Renaissance® Performance Polymers. The research, design, and development done by Renaissance at the molecular level gives Buckeye International the upper hand. With Renaissance, Buckeye can control the characteristics of their floor finishes, making them more durable, clear, and repairable. With floor finishes that do not powder or yellow, Buckeye's Hard Floor Care Program can help your school create a welcoming environment for all.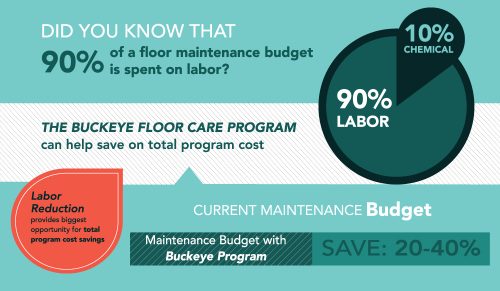 Additionally, because of the quality of their floor finishes, Buckeye is the only company in the industry that can provide the customer with a true top scrub and recoat program that reduces product and labor costs. Buckeye's products require less labor so school staff members can spend time on other important maintenance projects.
The Buckeye Hard Floor Care Program comes with training materials including in-person training and online training for schools and universities. The Buckeye Honors® Program allows staff members to access training materials 24/7 so you can get the most out of the Hard Floor Care Program. With Honors, staff members can watch videos and test themselves to see how much knowledge they gained. Supervisors can assign videos and view test results of each staff member. For more information on how the Buckeye Hard Floor Care Program and the Honors Program can help keep your school cleaner, contact your local Buckeye representative.