Buckeye's Hard Floor Care Program considers that labor, resources, cost, and expectations are all important factors when choosing your floor care program. They are equally important when selecting which floor finish you will use.
All of Buckeye's floor finishes provide excellent durability and shine. Depending on your maintenance program, a Buckeye representative can select the right floor finish for you and your staff. Buckeye floor finishes are manufactured with Renaissance Performance Polymers, Buckeye's exclusive line of polymers. We engineer the polymers that form the core of our finishes, allowing for innovation and quality control. Our control over the characteristics of our floor finishes enables us to create finishes that can fit the needs of nearly any facility.
Selecting a floor finish for your facility is where expectations and reality meet. Buckeye representatives will ask questions that help you decide which floor finish is right for your facility. How often do you burnish your floors? How much shine do you want to see in your floors on a daily basis? What kind of traffic is your floor dealing with on a daily basis?
How often do you burnish?
For facilities that have the equipment and manpower to burnish daily, Castleguard® floor finish may be the right choice. It responds well to burnishing and provides exceptional depth of gloss.It is extremely durable and scuff mark resistant. The performance and durability of Buckeye floor finishes will help extend strip cycles, reducing the time spent on your floors and the cost of labor.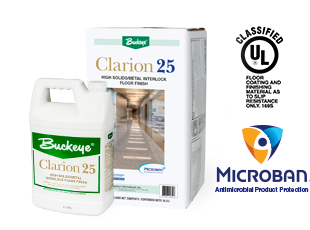 However, many facilities do not have the ability to burnish their floors daily. If your hard floor maintenance program only allows you to burnish over holiday weekends or about once a month, a representative may recommend Clarion® 25 floor finish. Clarion 25 can maintain high gloss with very little maintenance. It is ideal for facilities with limited equipment or manpower.
What kind of traffic is your floor dealing with?
Whether traffic in your facility is heavy or light, Buckeye has a floor finish that will give your floors gloss. If you're coating a warehouse floor, Proclaim® floor finish may be the right fit. Proclaim is designed to stand up to the wear and tear of forklifts and heavy machinery on concrete floors.
Buckeye offers several other floor finishes, including eco-friendly, economical, and specialty options. For example, facilities that are environmentally conscious may choose Verde® and Verde™ Ultra, Buckeye's Green Seal™ certified floor finishes. They each meet the most stringent environmental standards without sacrificing product performance.
Contact your local Buckeye representative to learn more about the program and discover which floor finish is right for you and your staff.