In a 1980s strength test, participants stared at a piece of navy blue paper for 15-20 seconds and then had their strength measured. Next, they stared at a piece of pink paper for 15-20 seconds and, again, had their strength measured. No matter which color they stared at first, the results were the same – there was a significant drop in strength after staring at the pink paper.
Studies like this are the reason why the visitor's locker room at the University of Iowa is painted pink. They are also the reason major manufacturers employ behavioral scientists to identify and capitalize on various stimuli that influence our behavior and, ultimately, lead us to purchasing their products. The Symmetry® Hand Hygiene Program has partnered with Dr. Adam Alter, who has a PhD in Behavioral Science, to create the Symmetry Behavior Modification System (SBMS).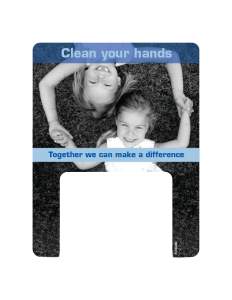 The goal of SBMS is to provide tools that capture attention in the moment, driving an immediate hand hygiene event to take place. Based on the 6 key tenets of benevolence, accountability, responsibility, variation, emotion, and direction, Symmetry's behavior modification tools include custom colored dispensers, placards, visual lighting cues, and floor decals.
Beyond dispenser color, Symmetry's placards are designed with inspiring messages to encourage hand hygiene. Custom dispensers can also be equipped with visual lighting cues (flashing lights) to draw attention and impact behavior. Symmetry's floor decals provide direction and guide people towards better hand hygiene.
When asked about the impact SBMS has had in her healthcare facility, one infection preventionist said, "I was just washing my hands in the public bathroom that has a sign saying, 'You can make a difference doing something this simple.' Such a simple statement says so much and can make such a huge difference in how we protect ourselves and our patients here. We don't have to preach to people. Just saying it simply can get to the heart of the matter. I'm glad we have those visuals for staff, family, and patients so they can all join in!"
Hand hygiene is one of the most important steps in reducing the spread of germs. The Symmetry Behavior Modification System, coupled with Symmetry's preferred formulas, maximizes hand hygiene compliance, helping to keep people in your facility healthy.
Contact your local Buckeye representative to learn more about the Symmetry Behavior Modification System and the Symmetry Hand Hygiene Program.