Products that remove stains from graffiti and permanent markers can be hard to come by. Eco® Muscle Cleaner E14 removes graffiti, ball-point ink, permanent marker, crayon, pencil, black heel marks, food soils, grease, oil, dyes, and most stains. E14 liquefies and lifts soils from surfaces that are often covered in stubborn stains like desktops, lockers, chairs, plastic, vinyl, Formica®, and nonporous surfaces.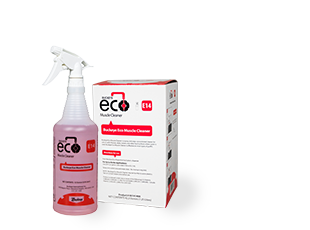 With E14, there is no fragrance added, no rinsing required, and no residue left behind. Eco Muscle Cleaner is non-corrosive and will not attack metal surfaces. It's biodegradable and uses Buckeye's patented Liquescent® technology, a technology that enables Buckeye to manufacture high performance products while adhering to the principle of human health and environmental safety.
Eco Muscle Cleaner E14 and all products in the Eco Proportioning Program are super concentrated, economical, and dilute with cold water. The Eco Proportioning Program saves both time and money. Eco proportioning systems dilute products with the push of a button, making it virtually automatic to properly dilute products.
Contact your local Buckeye representative to learn more about Eco Muscle Cleaner E14 and the Eco Proportioning Program.