Often, products that claim to eliminate odors merely mask them with heavy perfumes. Buckeye's odor control products do more than mask the odors; they neutralize and eliminate them. Buckeye's odor eliminators may be used in multiple applications, making them economical and less labor intensive.
Buckeye has three liquid odor eliminators: Green Apple, Scavenger™, and Ten-4™. Each are cost effective with multiple applications and work long after odors are gone to keep the area smelling fresh and clean. None of Buckeye's liquid odor eliminators contain harsh ingredients or hazardous chemicals.
Green Apple eliminates smoke odors, garbage odors, food odors, animal odors, urine and fecal odors, sewer gases, meat rendering odors, and musty/stale odors, leaving behind a fresh green apple fragrance.
Scavenger is pH neutral with a controlled release formula and floral fragrance. Spray Scavenger into the air or apply it to a surface.
Ten-4 has a wintergreen fragrance and can be used on all water washable surfaces including hard surface floors, floor finishes, plastics, painted surfaces, carpeting, fabrics, etc.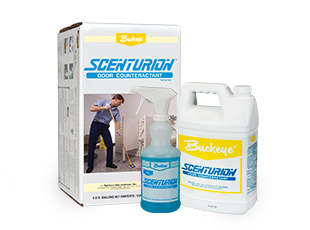 Along with liquid odor eliminators, Buckeye provides a liquid counteractant, Scenturion™. Scenturion reacts on contact with urine, feces, food waste, and other foul-odor substances. It works to eliminate odors at the source and does not rely on heavy scents to mask the odors. It can be sprayed, mopped, or poured onto odor sources that are not easily removed.
Access cleaning and maintenance procedures, and training for your school or university's custodial staff with the Buckeye Honors® Program. The Honors program is a complete custodial program for schools and universities. Make cleaning easy and effective by contacting your representative to learn more about Buckeye training programs. Contact us today to learn more.