Hand hygiene noncompliance is a major contributor to healthcare-associated infections (HAIs). The Symmetry® Hand Hygiene Program accounts for the importance of hand hygiene acceptance and provides products that healthcare workers want to use.
One common hand hygiene problem encountered in healthcare facilities is complaints of hand dryness, itchiness, or redness after continued use of hand sanitizer. When these complaints arise, employees, patients and visitors are less likely to practice proper hand hygiene.
Facilities that test Symmetry products overwhelmingly choose Symmetry over other hand hygiene products in quality, fragrance, drying time, feel, and comfort.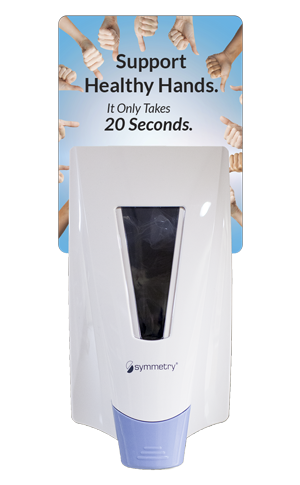 Symmetry matches the quality of its products with its customizable options. Symmetry dispensers are ADA compliant and can be customized with colors, logos, and behavior modification placards to inspire hand hygiene. Customizable education and awareness tools such as signs, posters, and wall charts are also available to assist in creating a culture of hand hygiene.
Symmetry also offers various point-of-care items such as brackets, lanyards, and suction cups for healthcare workers, patients, and visitors needing quick access to hand sanitizer.
Above all, the Symmetry Hand Hygiene Program recognizes that in order to achieve hand hygiene compliance in healthcare facilities, healthcare staff must like the product. If healthcare workers like the hand hygiene products, they will use those products and, as a result, help prevent HAIs.
Contact your Symmetry representative to schedule a Symmetry Challenge and evaluate the Symmetry Hand Hygiene Program against other hand hygiene products.