Buckeye's Symmetry® Hand Hygiene Program is more than just its products. Symmetry offers added benefits like education and awareness tools, behavior modification tools, and point of care tools. Symmetry has many customizable features designed to help your facility build healthy hand hygiene practices.
However, the foundation of the Symmetry Hand Hygiene Program lies in its products. Symmetry believes that the key to a good hand hygiene program is manufacturing products that people want to use in a reliable dispensing system. That's why Symmetry products clean hands without drying them out and leave no sticky residue behind. Symmetry dispensers don't drip and have large sight windows for checking product levels.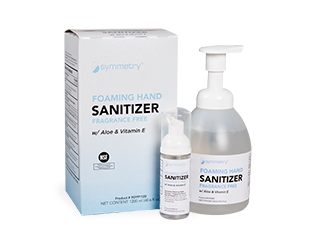 The best way for the people in your facility to see Symmetry's products and dispensers is through a Symmetry Challenge. A Symmetry Challenge allows staff members to test Symmetry products and compare them to their current hand hygiene products. Recently a hospital in Cleveland, OH was looking for new hand hygiene products. They chose to conduct a Symmetry Hand Hygiene Challenge in their facility. Staff members had been complaining about their hand hygiene products drying out their hands. With the ability to compare Symmetry to the products they had been using, it was immediately clear that Symmetry products were gentler on their hands. Of the 117 participants, 108 chose Symmetry over their previous products.
A Symmetry Challenge allows you to compare products and dispensers. When participants have the chance to compare Symmetry to other programs, they overwhelmingly choose Symmetry. Beyond comfort, Symmetry products are high quality and low cost. Symmetry hand sanitizers kill 99% of germs with comprehensive efficacy data.
Encouraging proper hand hygiene starts with providing products people want to use. The Symmetry Challenge is the simplest way to evaluate hand hygiene products and begin improving proper hand hygiene practices in your facility. Contact your local Buckeye representative to schedule a Symmetry Challenge today.