A cloudy haze on your floor finish can be caused by a number of things. Often when an autoscrubber or burnisher is used, small scratches can appear on the floor. Scratches like these are normally unnoticeable, but can stand out on dark tile flooring. It may take some time and careful examination to determine the cause of haze in your facility.
If you find that while using an autoscrubber or burnisher, it is quickly becoming caked with floor finish, you may have an issue with detergents. Always make sure that floor finish is applied with a clean mop and wringer. If the wringer has detergent on it, you will contaminate the floor finish before you even apply it. Detergent can also cause a problem when too much has been left on the floor from daily activities like mopping. Over time, the detergent can build up and cause a sticky residue that will not respond to buffing. The detergent will be ground into the floor finish and cause the floor to look hazy.
However, detergents aren't the only sources that can contaminate floor finish. Dust mops may also cause buff haze. When you use pre-treated dust mops, always remember to air them out the night before you use them. Often pre-treated dust mops are saturated with oils that can seep into the floor finish and even onto the tiles themselves if you do not air dry your dust mops first.
When you begin to notice scratches in your floor finish, you may need to examine your daily cleaning practices more closely. Many things can cause scratches. Are you using the right floor finish? Buckeye's Hard Floor Program has a variety of floor finishes that are customizable for your facility. Are you using the right floor pads at the right pressure? If a pad is too aggressive or too much pressure is applied, you may be inadvertently stripping off floor finish. Is the floor clean? Are the floor pads clean? If not, you may be grinding dirt further into the floor as you attempt to clean. The Buckeye Hard Floor Care Program includes extensive training and customer support that can help solve almost any flooring issue. With Buckeye's Hard Floor Care Program, you can ensure products are being used correctly and customize you floor care program for your facility.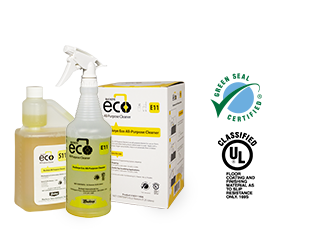 Unfortunately, when your floor finish is compromised in this way, you will most likely need to deep scrub and remove a few layers of floor finish. To do this, use Buckeye Eco® All-Purpose Cleaner E11/S11, diluted at 4 ounces per gallon with a blue, soft pad. Then, reapply. Once you have done that, be sure to clean the new floor finish with soft padded autoscrubbers. When using autoscrubbers or burnishers, you may benefit from beginning with a softer pad and then later moving to a more aggressive pad. Contact Buckeye International to discuss how we can help.