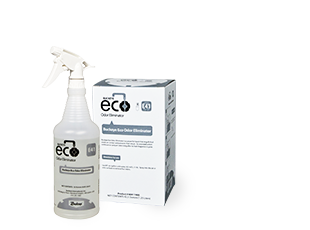 Effective odor eliminators make big promises, but usually come up short in results. If you need performance in this area, Buckeye has got you covered. Buckeye's Eco® Odor Eliminator E41 engulfs foul smells on contact. It also works long after the smell is gone to prevent odors from resurfacing.
E41 works to remove a variety of odors across a variety of surfaces. It can be used on all washable surfaces, and shows extremely powerful performance when tackling washrooms odors to trash dumpsters. With multiple applications, E41 can eliminate odor better by covering every surface in an affected area.
A part of the Buckeye Eco Proportioning Program, E41 is diluted with water making it an economical solution for ridding your facilities of unwanted odors. It's pH neutral and contains biodegradable ingredients with no solvents or hazardous ingredients listed by OSHA, NIOSH, or RCRA.
The Eco Proportioning Program includes a wide variety of maintenance products that meet your facility's needs. With Eco proportioning systems, you can be certain you are getting the most value out of your product. It saves workers time and automatically dilutes products at the proper rate. Coupled with the Eco Proportioning Program, E41 and other Buckeye Eco products can help you maintain a cleaner and safer facility. Contact us today to get started.