Wood floors are susceptible to water damage, especially if they are newly installed. Because new wood floors have not had time to fill with polymer protection, the wood will easily absorb water. Water can cause the boards to warp, which is why for the first two to three years of a wood floor's life, oil-based wood floor coatings are the best option.
The Reflections® Wood Floor Program provides oil-based wood floor coatings that are extremely durable and achieve high gloss after only one or two coats. They are VOC (volatile organic compounds) compliant and hold up well to scuffing and scratching. Traditional oil-based wood floor coatings are usually accompanied by harsh odors. Reflections oil-based wood floor coatings have less harsh odors, are less viscous, and are easy to apply. To cater to the needs of all facility types, Reflections provides a variety of oil-based coatings. Coating options include Coliseum® 450, Coliseum® 350, Coliseum® 275, and Larry's Super 40 Gym Coating.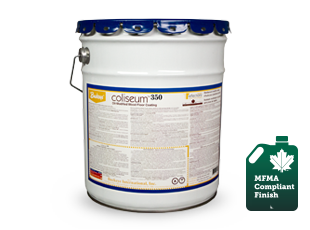 A lot of factors go into coating selection, including budget, facility location, and overall maintenance program. The choices and technical questions can seem endless when it comes to recoating your gym floors. This is why many facilities use contractors when it comes time to recoat. It may seem as if facility staff members are not qualified to get the job done.
The Reflections Wood Floor Program is designed with those concerns in mind. Recoating a school's gym floor in-house can result in savings of 35% or more. Reflections representatives have the knowledge and expertise to educate the staff of any facility on products and procedures. Buckeye's local distributors are trained to overcome any concerns surrounding your school's gym. Backed up with Buckeye's dedicated corporate sales team and top-of-the-line research department, Reflections is the perfect solution for any wood floor.
Local representatives give your staff hands-on training, answering questions and demonstrating techniques that make it possible to get the job done quickly and easily. In-person training is coupled with online resources like the Honors® Custodial Training Program for Schools and Universities. Honors provides wall charts, PowerPoint presentations, training manuals, and product literature as well as step-by-step videos meant to walk staff members through the recoating process. Honors' online tests ensure staff members are prepared and refreshed on procedures before big projects like recoating your gym floors.
Recoating your gym floors can seem like a monumental task. Whether your wood floor is new or old, Reflections has the wood floor coating to fit your needs and the expertise to answer your questions. Contact your local Buckeye representative to see which coating is right for your facility.