Microban technology in Clarion 25 will provide 24/7 antimicrobial protection. Microban protection can help make floors easier to clean and keep them cleaner, longer.
How does Microban antimicrobial protection work in Clarion 25 floor finish?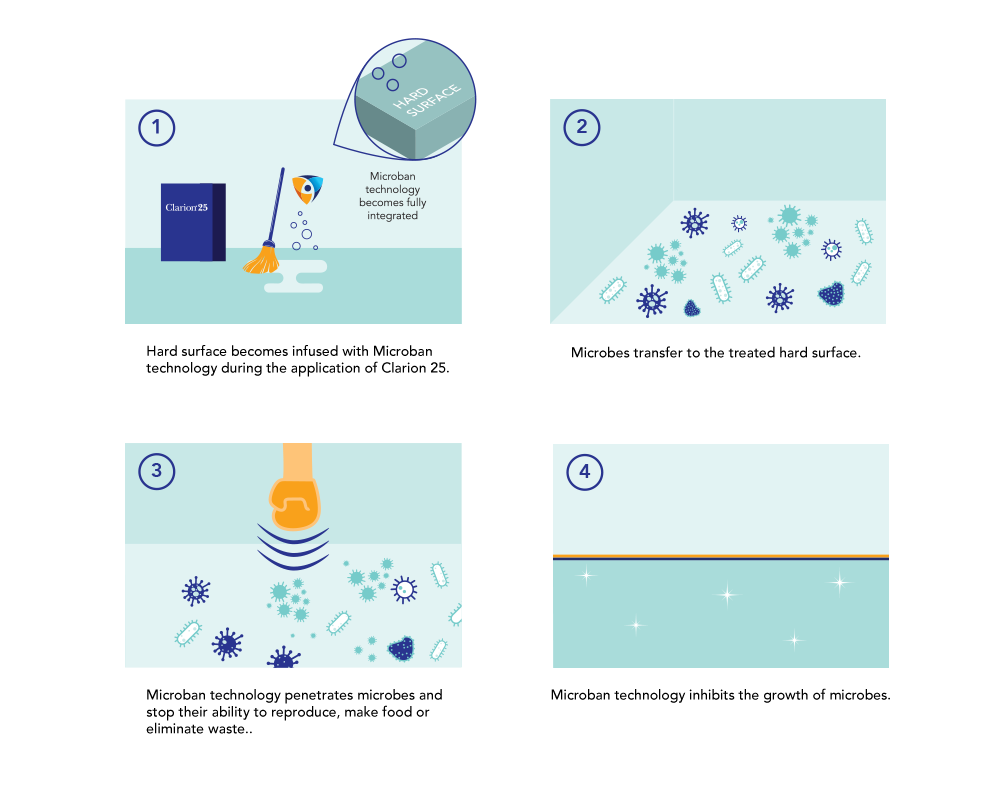 Clarion 25 has been tested using the JIS Z 2801 standard laboratory method and test protocol for antimicrobial activity. This method tests the ability of hard surfaces to inhibit the growth of microorganisms over a 24-hour period of contact.
Microban protection is built-in to Clarion 25 during the manufacturing process, but does not impact the durability and clarity of the floor finish. Like all finishes in Buckeye's Hard Floor Care Program, Clarion 25 is formulated using Renaissance Performance Polymers. Renaissance designs polymers specifically for Buckeye floor finishes. Because Buckeye manufacturers their own polymers, they control the quality and formulation of each floor finish. This guarantees consistent durability and clarity and also provides cost savings to customers.
The addition of Microban to Clarion 25's top-of-the-line formulation will provide an additional layer of protection for the useful lifetime of the floor finish without impacting the effectiveness of the product. Schools, hospitals, and retail facilities that are hoping to reduce the presence of microorganisms on their floors should contact their local Buckeye representative for more information.
*Clarion 25 with Microban antimicrobial technology has been tested for the presence of specific pathogens using JIS Z 2801 methodology and test protocols with a positive result. Normal cleaning practices should be maintained.