Disinfectants are antimicrobial agents applied to surface areas of nonliving objects to destroy microorganisms. They are used in a variety of areas such as hospitals, schools, kitchens, and restrooms to maintain a clean and germ-free environment.
When disinfecting, remember to remove heavy soil deposits first. When areas are heavily soiled, pre-clean the area before applying the disinfectant. While applying the disinfectant, use personal protective equipment including gloves and safety glasses when indicated. Be sure to follow the label instructions for each Buckeye product.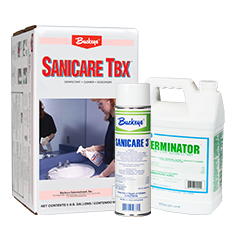 Buckeye Disinfectants ensure commonly used surface areas such as doorknobs, desks, tables, and restroom fixtures are germ-free. Buckeye disinfectant cleaners are quaternary ammonium/phenolic/alcohol-based products that are EPA registered and meet the OSHA bloodborne pathogen standard. Each disinfectant includes extensive kill claims, some of which include HIV-1 (AIDs virus), influenza and German Measles.
Buckeye offers a wide assortment of disinfectants including one-step cleaners and disinfectants, pH neutral disinfectants, highly concentrated disinfectants, disinfectants with multiple dilution rates, and ready-to-use disinfectants to meet any specific need. Here is a complete list of Buckeye Disinfectant products:
Sanicare Lemon Quat™
Sanicare Mint Quat™
Sanicare Pine Quat™
Sanicare Quat-64™
Sanicare Quat 128™
Sanicare Quat 256™
Sanicare 3™
Buckeye Sanicare Disinfecting Wipes
Sanicare TBX™
Buckeye Terminator™
Buckeye Watchdog® NF
Buckeye Supergard™
Buckeye Training Programs provide facilities with standardized procedures and training tailored to quality Buckeye products, including Buckeye's Disinfectants.